segunda-feira, 25 de abril de 2011
Postado por

Evandro
às 00:47
Um comentário:
Links para esta postagem

quarta-feira, 1 de dezembro de 2010
fIREHOSE é uma banda de rock alternativo formada em 1986 por Mike Watt (baixo, vocal), Ed Crawford (guitarra, vocal), e George Hurley (bateria), em San Pedro, California
logo após a morte acidental de D. Boon que deu fim a banda Minutemen, que também contava com Mike Watt e Ed. Crawford.
Então não demorando muito, lançaram o primeiro álbum com o selo independente SST e rapidamente ganharam fãs leais, especialmente entre a multidão underground do skate.
No fIREHOSE se manteu um pouco da identidade musical do Minutemen, a síntese dinâmica de punk, funk e jazz, com rápidas e energizantes linhas de baixo, mas sem tanta experimentação.
Reagin', Full on (1986)
1.Brave Captain
2.Under the Influence of Meat Puppets
3.It Matters
4.Chemical Wire
5.Another Theory Shot to Shit
6.On Your Knees
7.Locked-In
8.The Candle and the Flame
9.Choose Any Memory
10.Perfect Pairs
11.This…
12.Caroms
13.Relatin' Dudes to Jazz
14.Things Could Turn Around
If'n (1987)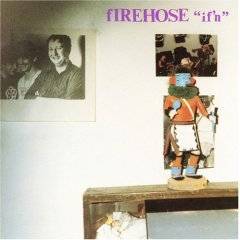 1.Sometimes
2.Hear Me
3.Honey, Please
4.Backroads
5.From One Cums One
6.Making the Freeway
7.Anger
8.For the Singer of R.E.M.
9.Operation Solitaire
10.Windmilling
11.Me & You, Remembering
12.In Memory of Elizabeth Cotton
13.Soon
14.Thunder Child
fROMOHIO (1989)
1.Riddle of the Eighties
2.In My Mind
3.Whisperin' While Hollerin'
4.Vastopol
5.Mas Cojones
6.What Gets Heard
7.Let the Drummer Have Some
8.Liberty for Our Friend
9.Time With You
10.If'n
11.Some Things
Some Things
12.Understanding
14.The Softest Hammer
Flyin' The Flannel (1991)
1.Down With the Bass
2.Up Finnegan's Ladder
3.Can't Believe
4.Walking the Cow
5.Flyin' the Flannel
6.Epoxy For Example
7.O'er the Town of Pedro
8.Too Long
9.The First Cuss
10.Anti-Misogyny Maneuver
11.Toolin'
12.Song for Dave Alvin
13.Tien An Man Dream Again
14.Lost Colors
15.Towin' the Line
16.Losers, Boozers, & Heroes
Mr. Machinery Operator (1993)
14.The Cliffs Thrown Down
Postado por

Evandro
às 22:18
Nenhum comentário:
Links para esta postagem

domingo, 17 de outubro de 2010
Dinosaur

Jr

é uma banda de rock

altenativo

formada em 1984 em

Amherst

,

Massachusetts

por J.

mascis

(Vocal/Guitarra),

Lou

Barlow

(Baixo) e

Murph

(Bateria).
A banda surgiu com o fim do

Deep

Wound

, banda que tinha um som totalmente diferente do que se escutaria no

Dinosaur

Jr

, basicamente era conhecida como uma das bandas mais rápidas da época, mas não durou muito tempo, com isso J e

Lou

chamaram

Murph

e formaram o

Dinosaur

Jr

, que tem como

características

vocais desleixados, músicas de assustadoras à divertidas, bastante barulho e grandes solos. Mas em 1989 logo após o lançamento do álbum Bug, terceiro da banda,

Lou

Barlow

saiu da banda por causa dos constantes desentendimentos com J.

mascis

, e formou o

Sebadoh

. Isso não fez com que a banda parasse, Com

Mike

Johnson

no lugar de

Lou

, a banda continuou a fazer

shows

, logo veio o

lançamente

de

Green

Mind

, álbum considerado um dos melhores da banda até hoje, e que foi praticamente gravado só por J

mascis

.
Em 1997 J anuncia o fim da banda, mas em 2005 volta a fazer

shows

com sua formação original, e lançaram mais dois álbuns de 2007 pra cá.
Até hoje é considerada um dos ícones do Rock Alternativo e uma grande influência para bandas alternativas surgidas no final dos anos 80 e praticamente todo os anos 90, década que a banda também passou a ser mais conhecida.
You

'

re

Living

All

Over

Me (1987)
Little

Fury

Things

EP

(1987)
Just

Like

Heaven

EP

(1989)
6.How'd You Pin That One On Me
4.Quicksand (Wagon Reprise)
Whatever's Cool With Me (1991)
1.Whatever's Cool With Me
10.Seemed Like the Thing to Do
2.Get Out Of This (No words just solo)
3.Repulsion (Acoutisc live CBGB's)
I Don't Think So EP (1994)
2.What Else Is New (live)
7.Severed Lips (Mark Goodier Session)
8.Get Me (John Peel Session)
9.Thumb (Mark Goodier Session)
Take A Run At The Sun EP (1997)
2.Don't You Think It's Time
The Best Of Dinosaur Jr (2001)
9.Whatever's Cool with Me
16.Forget The Swan (Live)
5.This Is All I Came to Do
6.Been There All The Time
Been There All The Time EP (2007)
1.Been There All The Time
I Don't Wanna Go There EP (2009)
1.I Don't Wanna Go There (Live at pitchfork)
2.Tarpit (Live at pitchfork)
3.Hickory Wind (Acoustic)
Postado por

Evandro
às 19:22
7 comentários:
Links para esta postagem