fIREHOSE é uma banda de rock alternativo formada em 1986 por Mike Watt (baixo, vocal), Ed Crawford (guitarra, vocal), e George Hurley (bateria), em San Pedro, California
logo após a morte acidental de D. Boon que deu fim a banda Minutemen, que também contava com Mike Watt e Ed. Crawford.
Então não demorando muito, lançaram o primeiro álbum com o selo independente SST e rapidamente ganharam fãs leais, especialmente entre a multidão underground do skate.
No fIREHOSE se manteu um pouco da identidade musical do Minutemen, a síntese dinâmica de punk, funk e jazz, com rápidas e energizantes linhas de baixo, mas sem tanta experimentação.
Reagin', Full on (1986)
1.Brave Captain
2.Under the Influence of Meat Puppets
3.It Matters
4.Chemical Wire
5.Another Theory Shot to Shit
6.On Your Knees
7.Locked-In
8.The Candle and the Flame
9.Choose Any Memory
10.Perfect Pairs
11.This…
12.Caroms
13.Relatin' Dudes to Jazz
14.Things Could Turn Around
If'n (1987)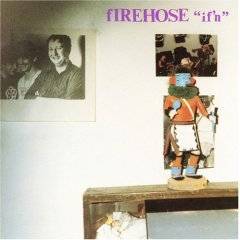 1.Sometimes
2.Hear Me
3.Honey, Please
4.Backroads
5.From One Cums One
6.Making the Freeway
7.Anger
8.For the Singer of R.E.M.
9.Operation Solitaire
10.Windmilling
11.Me & You, Remembering
12.In Memory of Elizabeth Cotton
13.Soon
14.Thunder Child
fROMOHIO (1989)
1.Riddle of the Eighties
2.In My Mind
3.Whisperin' While Hollerin'
4.Vastopol
5.Mas Cojones
6.What Gets Heard
7.Let the Drummer Have Some
8.Liberty for Our Friend
9.Time With You
10.If'n
11.Some Things
Some Things
12.Understanding
14.The Softest Hammer
Flyin' The Flannel (1991)
1.Down With the Bass
2.Up Finnegan's Ladder
3.Can't Believe
4.Walking the Cow
5.Flyin' the Flannel
6.Epoxy For Example
7.O'er the Town of Pedro
8.Too Long
9.The First Cuss
10.Anti-Misogyny Maneuver
11.Toolin'
12.Song for Dave Alvin
13.Tien An Man Dream Again
14.Lost Colors
15.Towin' the Line
16.Losers, Boozers, & Heroes
Mr. Machinery Operator (1993)
14.The Cliffs Thrown Down